Topaz Class (Year 6)
We have really enjoyed having Ryan Scott the Commonwealth athlete come into school to motivate us, exercise with us and teach us about how to pursue our goals and dreams.
Every class performed a song and/ or dance at our jubilee celebrations party from different decades across Queen Elizabeth's reign. Our decade was the 50's and we learnt a jive to Elvis Presley - Jailhouse Rock. We dressed up in 50's outfits, too!
The Paddlers, our PTA team, organised a fundraising sponsored obstacle course. It was absolutely brilliant fun as we went round many different activities to complete against the clock.
SATs 2022 are over! We had a day of celebrating, and we went out to the local Rio Cinema which opened especially for us to watch a film. We had some games and treats in school too!
For STEAM (Science, Technology, Engineering, Art and Maths) Week, we focused on the use of solar energy. We built solar ovens to investigate whether solar energy could melt cheese to create 'cheesy nachos!' Then, we experimented with the energy harnessed by solar cells to power a circuit. We compared this with the power of a battery.
Our new DT topic is Global Food, we are very pleased about this as so far it's meant we have done lots of tasting! We linked this in with the whole school geography day and tasted foods from around the world, locating them on a map and discussing how climate affects produce. We also looked at UK trade imports and exports.
We have also had The Happy Puzzle Company visit our school who set us lots of different team challenges. When completing one, we progressed onto the next and they became increasingly difficult. We were great at working co-operatively, with great communication and problem solving skills.
During 'Money Week' we had a lesson in making amounts of money in different ways, as well as giving change. We role played this by choosing to make a purchase from the classroom 'shop' and then assembling our 'money' to make the amount we needed or the change we would get from certain notes!
In DT this half term, we have been looking at structures. We have explored ways to make strong structures, how to build bends and how to create a a bridge. We have also tested materials for purpose, and designed and created a floating, waterproof boat in groups. Eventually, we will be using these skills to create a marble run!
In Geography, our topic of "Our Changing World" led us to investigate the effects of different weathering. We carried out various experiments to explore chemical, biological and physical weathering; and erosion. Practical investigations really help to create deeper understanding and are a lot of fun, too!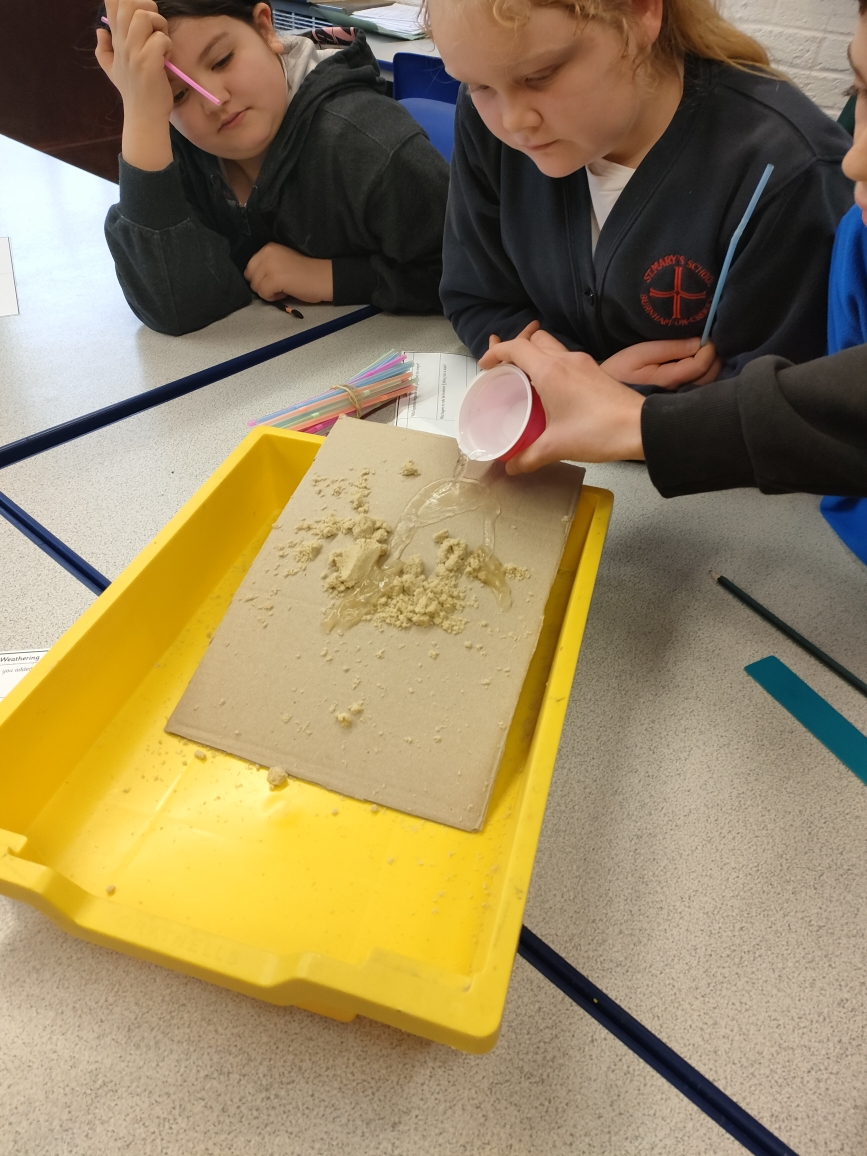 In Science, our topic is Electricity. We have been looking at how to build circuits, what the different components are and their scientific names, as well as exploring voltage and experimenting with how the number of bulbs in a circuit affects the brightness.
During this half term, we also celebrated Red Nose Day for Comic Relief. We donated money to wear red for the day and take part in some fun activities. We took part in a quiz about noses and smells, a maths challenge, we decorated biscuits with red nosed faces, made our own red noses and had our own "nose and spoon" tournament!
Our Science topic for this half term has been Light. We have explored how light travels, reflects, refracts and more! We made our own periscopes to understand how light can reflect off of mirrors and bend to show us things we wouldn't normally be able to see! We had great fun!
In Art, we have been looking at a variety of different artists and techniques. One we found particularly interesting was the photographer Ansel Adams. We looked at his photography of landscapes and used his printed black and white images to collage our own imaginary landscape from pieces of his work.
In English, we wrote beautiful poems using lots of new and developed figurative language skills, including onomatopoeia, alliteration, metaphors, similes and personification. Our poems are displayed proudly in our classroom for visitors to see.
At the start of February, we joined in the celebration of the Lunar New Year by creating Chinese parade dragons. They took some intricate decorating and careful piecing together to create an effective look.
Finally, on NSPCC Number Day, we used ourselves to complete a tricky maths quiz and created human number sentences!
This half term our topic has been The Ancient Egyptians. We have found this a really interesting time in history to learn about and have written in hieroglyphics, explored Tutankhamun's tomb and even sculpted our own death masks! We are going to be painting them this week.
We also made bread rolls from an Ancient Egyptian recipe that uses date syrup to sweeten it and add flavour. The bread was a lot heavier and more dense than we are used to, as it used no yeast.
At the start of November, we took part in a Guy making competition, and we spent a whole afternoon creating him using old clothes, newspaper for stuffing and a glue gun for holding it all in place! We won the competition, and he took pride of place on top of the bonfire at St Mary's Church.
Finally, in our last couple of weeks of term, Reverend Suzie came to one of our whole school assemblies to introduce herself as the new vicar of St Mary's Church. She also talked to us about Christmas time and things that are important to us at this time of year. This gave us some food for thought, and so we decided to reach out to local residential care homes where there might be people who are feeling lonely or less Christmassy than us. We wrote letters and made angel decorations and sent them out to spread some Christmas cheer.
This half term our topic is Rivers and Seas. We have spent time making observational drawings and creating kelp forest collages in Art. This work links to our English text 'The Hidden Forest' by Jeannie Baker.
In RE, we wrote our own personal prayers, appropriate for reading either at meal times or the end of the day. We thought hard about what was important to us, what we were thankful for and what blessings we had in our lives.
We have worked on poems inspired by Benjamin Zephania's poem called 'The British' which is written like a recipe. We have created a display in the school hall to showcase our poems, written like a recipe for England.
Also this half term, we were very excited to be invited to take part in a time capsule burial at the David Wilson Homes on Maldon Road. They asked us to fill a time capsule with reflections on our current lifestyles and what it has been like dealing with covid-19 and the restrictions it placed on us. We filled the capsule, sealed it, buried it and stood a plaque in it's place to be dug up in 2071!
In this part of the half term, we have also celebrated the Harvest Festival. We worked on creating lifelike, origami pumpkins which were included as part of a whole school display in St Mary's Church.
An